🇬🇧 A TAG Heuer Aquaracer Men's Black Watch – WBD1110.BA0928. This watch is available now for £889.00. The seller is located in Hawick, United Kingdom. The condition of this Divers Watch has been listed as "Used". This watch is being sold by a seller with the user name "ande_grei".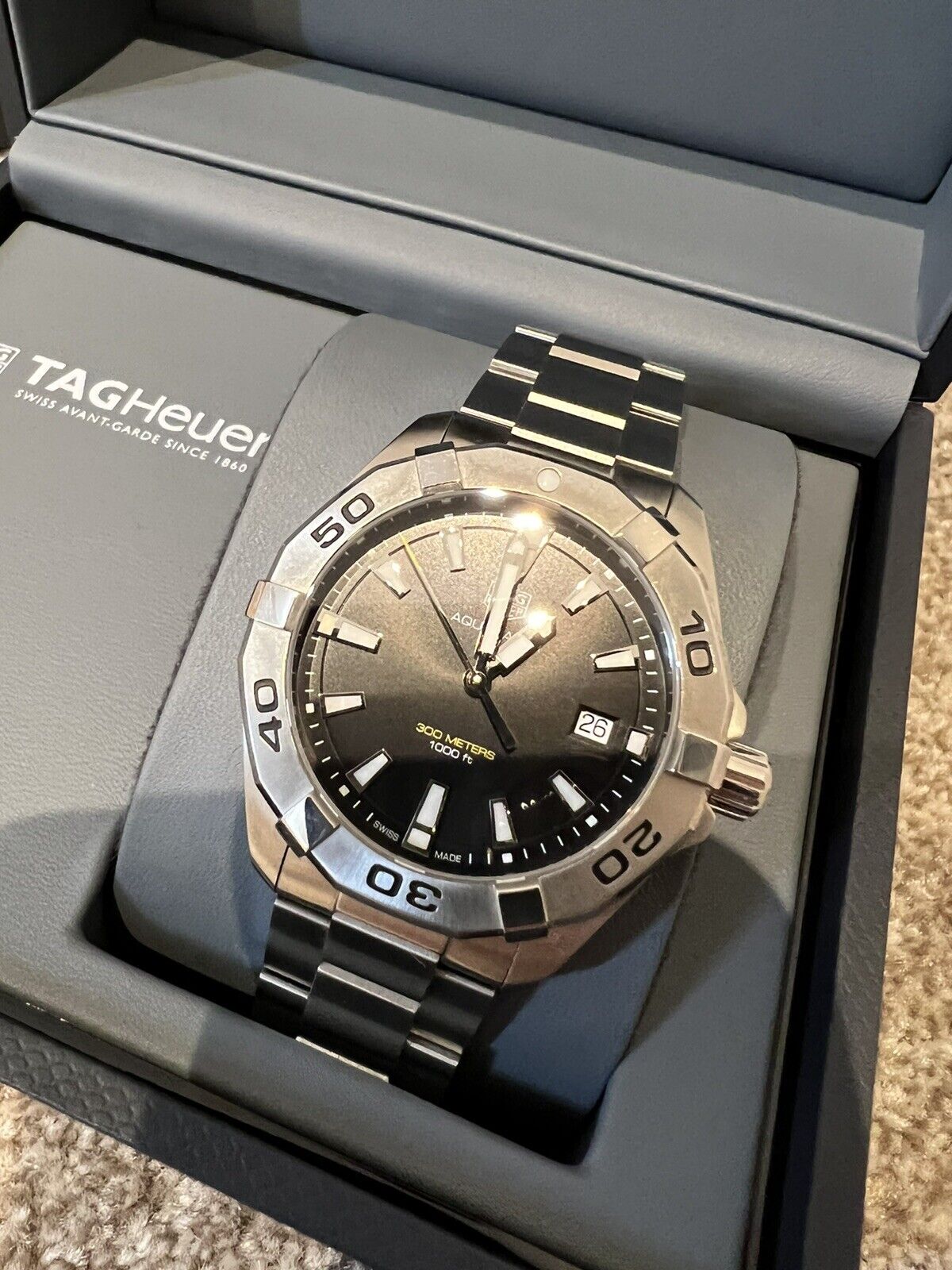 Similar watches for sale
ChronoDivers.com – the best Diver's Watch for sale NOW
We are here to help you find your next diver's watch from a trusted seller at a great price. If you've not been here before and you just want an idea of what's available – start here > Dive Watches for sale TODAY. If you do know what you want please use the menus and start filtering by BRAND and MODEL. At that point you can start filtering by COUNTRY
First and foremost we are massive watch fans, but ChronoDiver's is all about Divers Watches. Everyday our clever little DiveBOTS search eBay and other sales platforms looking for the best watches currently for sale. We categorise these watches by BRAND and MODEL. Whether you're searching for a Rolex Sea-Dweller or Rolex Submariner (even a Hulk, Kermit or Smurf) or a Seiko Tuna, Seiko Turtle or the always popular Seiko SKX009 Pepsi – we've got it covered. We try and cover all styles and all budgets.
Best Budget Dive Watches
For the very best value for money Divers Watches take a look at our Top 4 Dive Watches of 2022. Here you'll find watches by Orient, Invicta, Citizen and Casio. These products are for those looking for a usable dive watch betwen £75 and £199
Orient Watch Company
Orient is a brand that everyone should consider when shopping for a value for money, entry level divers watch. The Orient Watch Company have been around since 1951. Currently owned by Seiko Epson assuring the customer of Japanese quality at an everyday affordable price. The most popular Orient Mako model is available in Mako I, Mako II and now the Orient Mako III
Invicta Dive Watches
No2 on our list is the Invicta Pro-Diver 200m with self winding automatic movement and an attractive glass display caseback. One of the oldest watch brands listed on ChronoDivers. The Invicta brand has a long history of watch making going back to 1837. Some of their range are officially certified as "SWISS MADE" featuring a high quality ETA Quartz movement. If you want their best – look no further than the 300m Invicta Grand Diver
Best Mid Range Dive Watches
For customers looking for the best value for money in the £200 to £500 range we'd recommend anything from the huge range of Seiko Divers watches and Citizen Promaster Dive watches.
Seiko Dive Watches
The Seiko range is extensive but the most popular watches have been given some great nicknames – Seiko Tuna, Seiko Turtle, Seiko Pepsi, Seiko Monster and Seiko Samurai to name a few. For the serious divers out their there's the Seiko PADI endorsed range – covering most styles and models.
Citizen Diver's Watches
The Citizen Eco-Drive diver watches should never need opening – offering years of maintenance free timekeeping. They use the natural movement of the wrist to charge the internal battery. It's a combination of quartz accuracy and mechanical charging.
For the old school diving purist it has to be the mechanical, self winding Citizen Automatic diver. In this range you'll find models like the Citizen NY0085, the NY0040 and NY0100. You can still find some of the classic Citizen 8203 automatic divers watches. Whichever one you choose – you may rest assured your Citizen Promaster Diver's watch has passed the highest standards of Japanese quality.