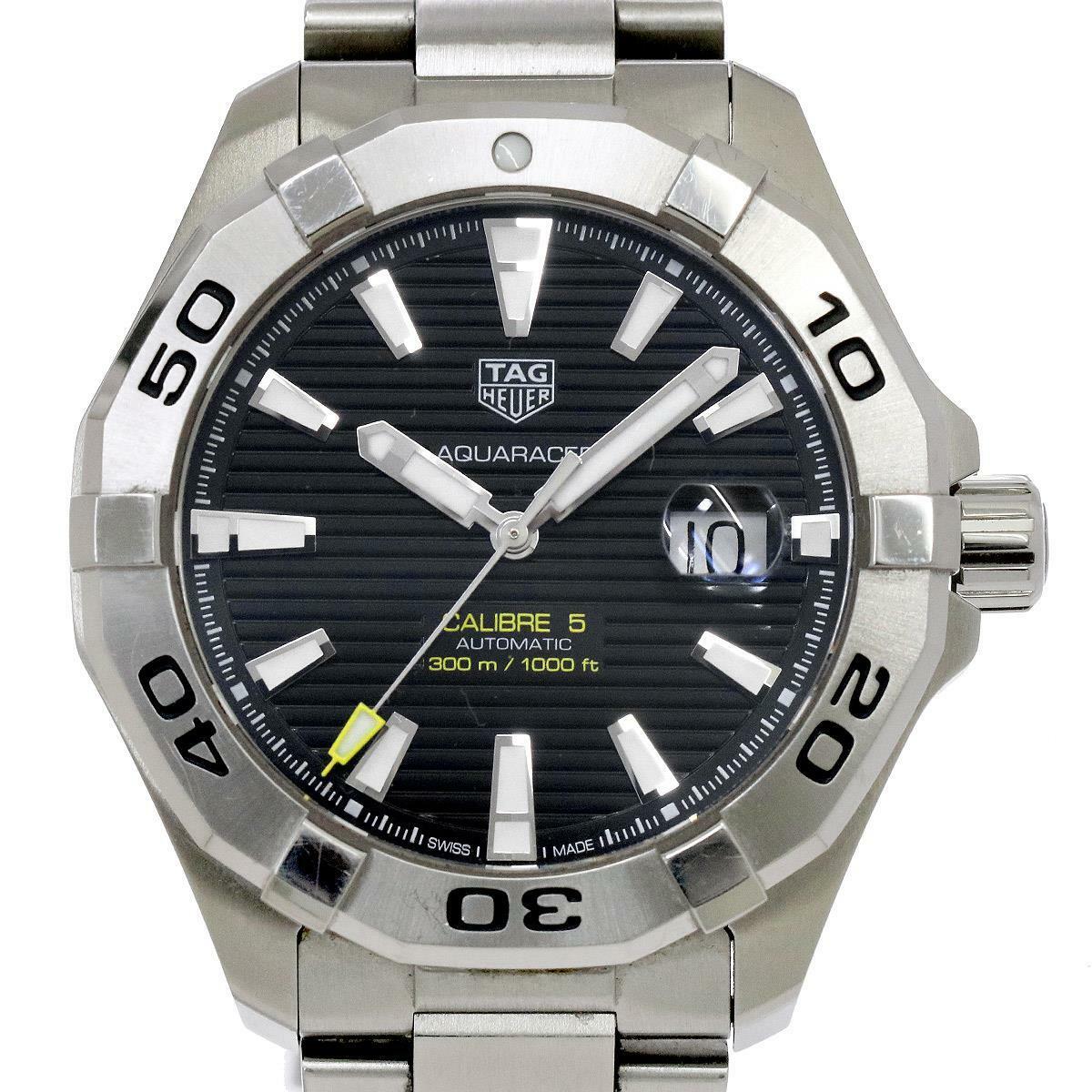 TAG Heuer Aquaracer calibre 5 Automatic Black Dial Mens WAY2010 90068487

Price : US$ 1,240.91

Sale by : buy it now

Ships to : Worldwide

Condition : Pre-owned
Bids :

Ends on : 2020-03-14 08:09:47

Time Remaining : 3 weeks

View this TAG Calibre 5 on eBay
---
Chronodivers.com is an
affiliated partner
of Amazon.com
---
TAG Heuer Aquaracer Calibre 5
The TAG Heuer Aquaracer watch range is aimed at swimmers, sailors and surfers as well as divers. The range can be broken down in to several categories. First and foremost – all current models are certified to a water resistancy of 300m. This justifies their labelling as true dive watches.
Other models in the Aquaracer line-up include
Aquaracer Automatic Calibre 5
This is the most popular version of the Aquaracer – the TAG Heuer Calibre 5. All models feature the Calibre 5 swiss made automatic movement. It is available in various case sizes from 40.5mm to 43mm – some with metal bracelets others with rubber/ nylon depending on model style. These watches have a power reserve of 38 hours. They also feature a second hand STOP function (for accurate time setting) plus fast date correction.
All images courtesy of TAG Heuer (1)
Expect to pay $?
The current range of TAG Heuer Aquaracer Calibre 5 watches vary from around $2,000 to $4,000 for a new one. In the pre-owned market they hold pretty much their original value – but you will see some good ones for around $900-$1,200.
More TAG Aquaracer Calibre 5 watches for sale
For visitors in the UK please visit our range of TAG Heuer Aquaracer Calibre 5 for sale in the UK
For American visitors please visit our range of TAG Heuer Aquaracer Calibre 5 for sale in the USA
Beware Fakes
The market is FLOODED with fake TAG Heuer watches. Do not buy a counterfeit TAG Heuer Calibre 5 by following some guidelines about avoiding fake watches here
Browse the Latest Listings
Don't forget to take a look at all the latest Dive Watches for sale posted in the last 24 hours. Everything from Omega Seamaster and Rolex Submariner to TAG Heuer Aquaracer to Seiko Prospex and Citizen Promaster – the best diver's watches for sale today.