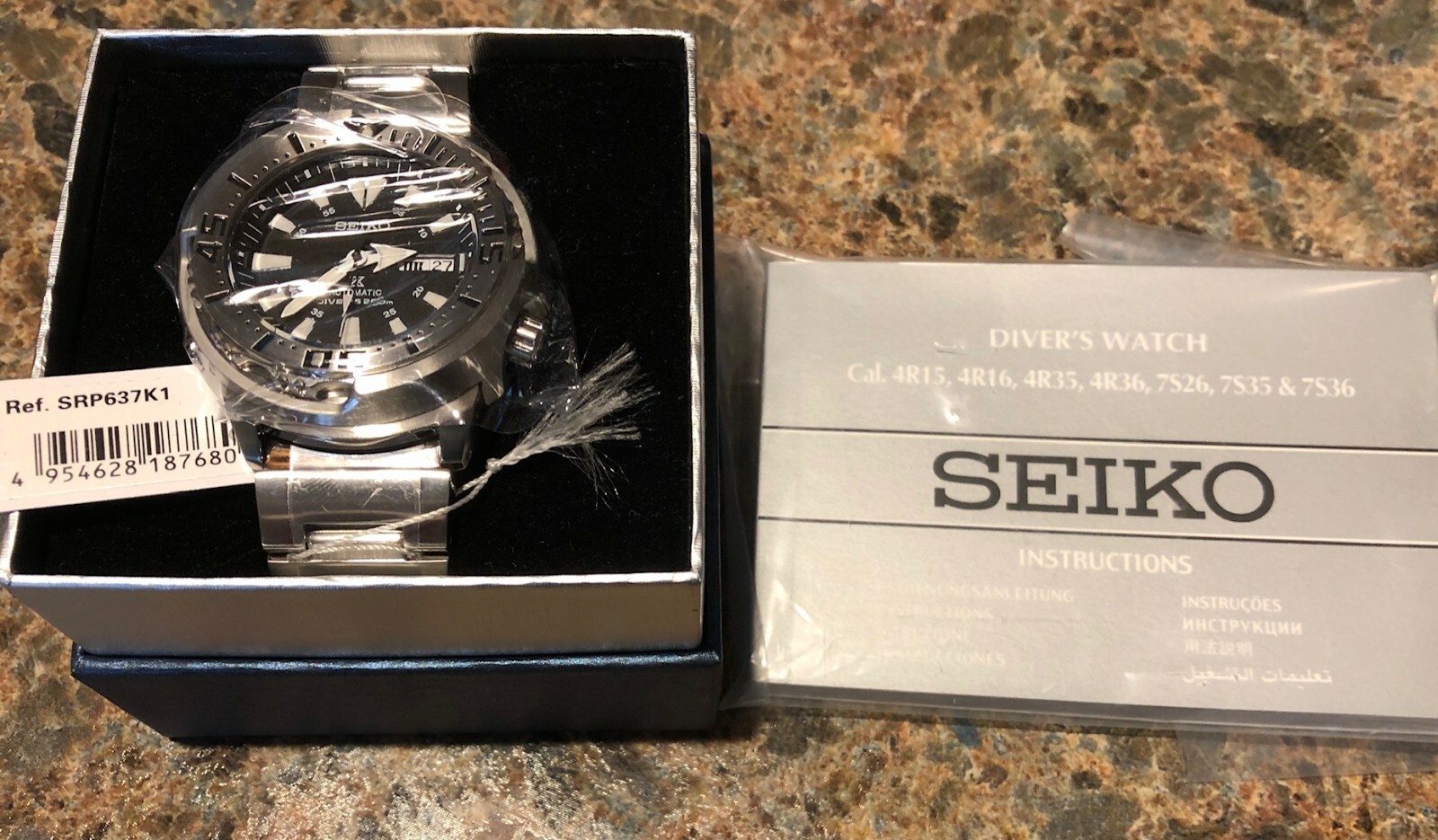 New Seiko SRP637K1 Monster Baby Tuna Automatic Watch Roman Day Date Prospex

Price : US$ 499.99

Sale by : buy it now

Ships to : United States

Condition : New with tags
Bids :

Sale by : buy it now

Ships to : United States

Condition : New with tags
Ends on : 2020-02-09 21:22:00

Time Remaining : 2 weeks

View this Seiko Tuna on eBay
---
Chronodivers.com is an
affiliated partner
of Amazon.com
---
Seiko Tuna – a short history
Of all the Seiko ISO rated dive watches the Seiko Tuna has the most distinctive / original design. This unique design comes more from necessity than aesthetics. The key to this styling lies in the depth this watch can withstand. The Seiko Tuna range (that's a nickname – not an official Seiko nomenclature) is a PROFESSIONAL diver's watch capable of withstanding the pressure from depths of 600m (now 1000m). When diving at these depths a combination of mixed gases are used to protect the diver's from "the bends" (1)
Seiko Tuna information pages
Helium Release Valve – superfluous
A proportion of these mixed gases is HELIUM. And there lies the problem. Helium particles are TINY … really TINY. They are small enough to enter the casing of a watch water resistant to even 600m. The problem arises during decompression. The helium gas cannot get out quickly enough. There is a build up pressure inside the watch which may cause the glass to blow off.
Titanium casing & special gasket
Seiko looked outside the box for solutions. Instead of looking to ways of allowing the helium to get out … they stopped it entering in the first place. With a specially designed gasket and the titanium monochoque casing the problem was solved in a unique fashion. That was back in 1975 that the world was first introduced to the Seiko Tuna. The initial watches were driven by Seiko's 6159 Calibre (3) – 26 jewel – automatic movement.
Expect to pay….
Expect to pay somewhere in the region of US$500 to US$4,000 depending on the precise model. It's a little confusing with such a big range in prices. Be careful not to buy an OVER PRICED model. There are some newer models available from Amazon etc (eg the Seiko SNE498P1) for just US$370 (normally equipped with Seiko's kinetic or solar movements). At the other end of the market they have their high beating models like the SBDX014G powered by the 8L35 automatic movement – expect to pay US$3,000 to US$3,500 for these
More Seiko Tuna watches for sale
For visitors in the UK please visit our range of Seiko Tuna watches for sale in the UK
For American visitors please visit our range of Seiko Tuna watches for sale in the USA
More Seiko Prospex Dive Watches
This is just one of the many Seiko Prospex dive watches listed for sale on ChronoDivers.com. For something more traditional then please consider the Seiko SKX009 – classic Pepsi styling with automatic movement. For a softer design Seiko have their Turtle design with smooth "turtle shell" like rounded lugs. If you like something more "angular" then we have the Seiko Samurai – with lugs designed to imply they've been chopped with a Samurai sword ….
Browse the latest Listings
Don't forget to take a look at all the latest Dive Watches for sale posted in the last 24 hours. Everything from Omega Seamaster and Rolex Submariner to TAG Heuer Aquaracer to Seiko Prospex and Citizen Promaster – the best diver's watches for sale today.