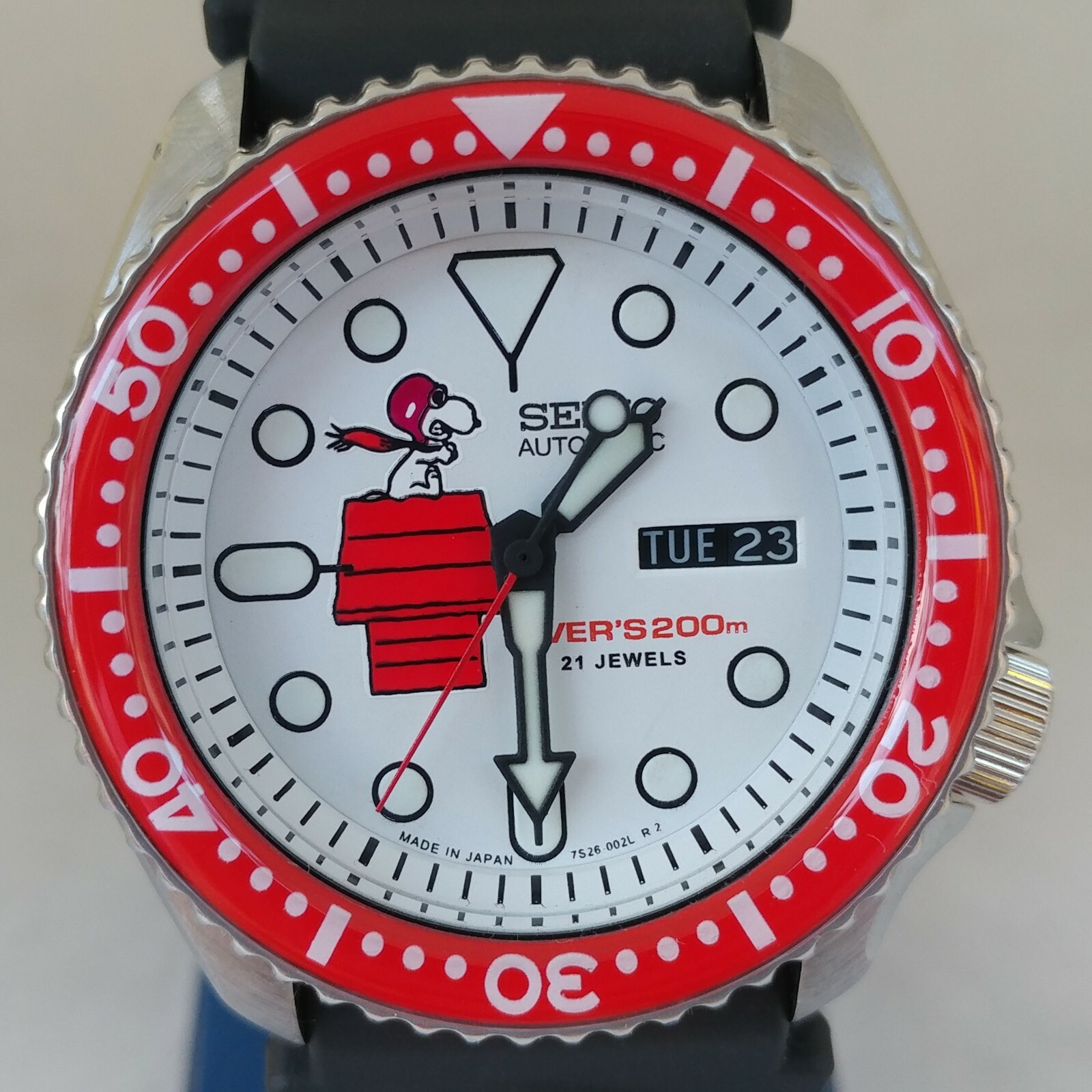 Seiko 7S26-0020 Vintage Divers Flying Ace Automatic Watch Mod SKX007 #795

Price : US$ 187.00

Sale by : auction

Ships to : Worldwide

Condition : Pre-owned
Bids : 0

Ends on : 2020-01-19 14:24:48

Time Remaining : Ended

View this Seiko SKX007 on eBay
---
Chronodivers.com is an
affiliated partner
of Amazon.com
---
Seiko SKX007 – black dial & bezel
Slightly less popular than the Seiko SKX009 is this model – the Seiko SKX007. Mechanically identical – the only difference in the two models is the watch dial and bezel colour. The SKX007 has an all black watch face and an all black dial – with no differentiator at the 20 minute mark (something designed to help control ascent time when returning to the surface.
Further Reading
The Seiko SKX007 and SKX009 have proved popular over decades for many reasons. It's a proper diver's watch with an ISO 6425 rating to 200m. It features a uni-directional bezel and protected / recessed screw in crown. Most popular are the versions with the black rubber diving strap as shown in these images.
The meaning of an AUTOMATIC watch
An automatic watch movement – like the calibre 7S26 featured in the SKX009 & SKX007 – is a mechanical movement continually wound by the natural movement of the wrist opposed to specific daily winding.
Simply put, every time your wrist moves a semi-circular rotor spins – in effect – winding the watch's mainspring. The movement does not have to be forced, it works from natural gestures expressed throughout the day. Most Seiko automatic watches also allow for "hacking" – the manual winding of the watch to give it a headstart.
If the watch hasn't been moved for a day or two it will stop running. To restart the watch simply wave it back and forth for a minute of two, or, if it features the hacking feature, unscrew the crown and give it 10 to 20 winds (back and forth)
Expect to pay….
This is a real mine field. Expect to pay anywhere from US$400 to US$4,000 depending on the precise model, age, originality and provenance. It's a little confusing with such a big range in prices. Be careful not to buy an OVER-PRICED current model posing as a RARE version or similar.
Take time to research the specific model you are interested in. Check if it is available NEW in BOX from Amazon, WatchShop, JuraWatches etc. I have seen $350 brand new watches selling on eBay for $500 – oversold, referred to as RARE etc. Please do your research. If it's an SKX007 or SKX009 (and everyone should own one of these beauties) expect to pay $175 for a clean but not immaculate one. If you can pick one up for less than $100 – you've done well. An original Seiko 6309 or 6105 (predecessor to the SKX range) can fetch well in excess of $500
SKX007 modified models
There are many used versions online with non-genuine bezel, watch glass, straps and even hands. These often sell for quite a lot less than a genuine condition model – however – some modified models can fetch DOUBLE the price of the original ….
More Seiko SKX007 watches for sale
For visitors in the UK please visit our range of Seiko SKX007 watches for sale in the UK
For American visitors please visit our range of Seiko SKX007 watches for sale in the USA
Seiko Prospex Dive Watch range
This is just one of the many Seiko diving watches listed for sale on ChronoDivers.com. If you're new to the Seiko range – please take a look at their other classic styles like the softer Seiko Turtle dive watch with smooth "turtle shell" like rounded lugs (available in Kinetic, Automatic and Solar versions). If you like something more "angular" then there is the Seiko Samurai diver's watch – with lugs designed to imply they've been chopped with a Samurai sword …. again – available with automatic, Kinetic or Solar movements.
New Lisitings – more quality Dive Watches for sale
Don't forget to take a look at all the latest Dive Watches for sale posted in the last 24 hours. Everything from Omega Seamaster and Rolex Submariner to TAG Heuer Aquaracer to Seiko Prospex and Citizen Promaster – the best diver's watches for sale today.