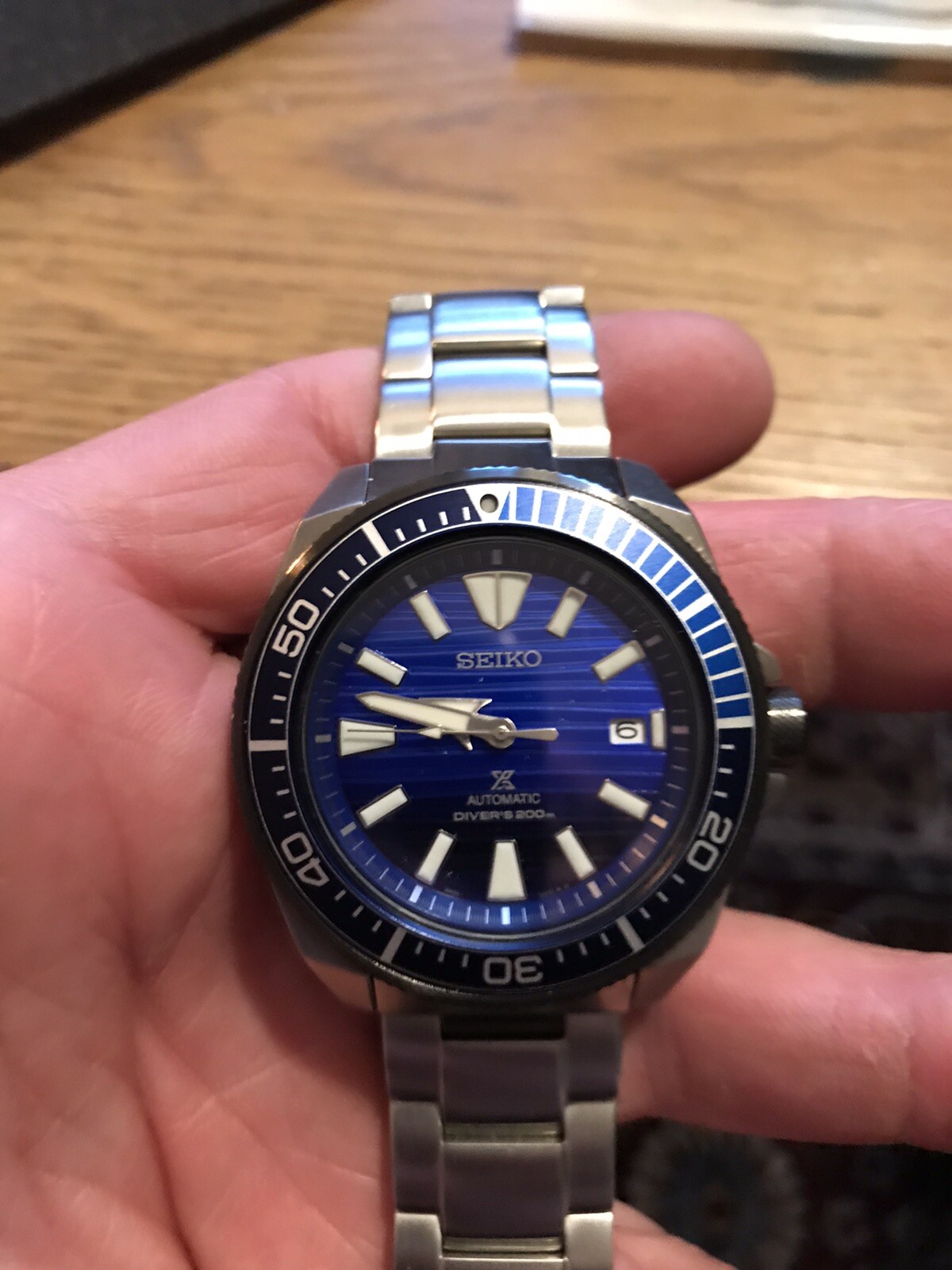 View this Seiko Samurai on eBay

Seiko Prospex Samurai Save The Ocean SRPC93K1 Special Edition Divers Watch

Price : GB£ 250.00

Sale by : auction

Ships to : United Kingdom

Condition : Used
Bids : 0

Ends on : 2020-01-13 10:02:23

Time Remaining : Ended
---
Chronodivers.com is an
affiliated partner
of Amazon.com
---
Seiko Samurai Dive Watches
One of the most sought after and iconic Seiko dive watches is commonly referred to as the Samurai. With it's distinctive bevelled lugs – Seiko Samurai – is a nickname that covers several Seiko dive watch models incorporating this case design. The photograph below highlights the unique design of the Samurai case. The sharp angles of the Samurai case give the impression it has been sliced by a Samurai sword (*3).
Expect to pay….
The current line up of Seiko Samurai style watches range from about £350 to £500 featuring both Kinetic and Automatic movements. The most popular models are the Blue Lagoon / Save the Ocean with a lovely "wavey" blue watch face (like the one above).
How about £3,000 +
As with anything collectible – there are some very rare pieces that fetch a real premium. We saw the one pictured below for sale from a Japanese seller for over £3,000 .. A limited edition watch celebrating the 49th Japanese Antarctic Research Expedition – JARE49 Southem Samurai Limited Edition of only 250 pieces – SBDA00E Ref.7S25-00F0 – Automatic winding, Titanium, 200m Waterproof
More Seiko Samurai watches for sale
For visitors in the UK please visit our range of Seiko Samurai dive watches for sale in the UK
For American visitors please visit our range of Seiko Samurai dive watches for sale in the USA
Seiko Prospex Dive Watch range
This is just one of the many Seiko diving watches listed for sale on ChronoDivers.com. If you're new to the Seiko range – please take a look at their other classic styles like the softer Seiko Turtle dive watch with smooth "turtle shell" like rounded lugs (available in Kinetic, Automatic and Solar versions).
Browse the Latest Listings
Don't forget to take a look at all the latest Dive Watches for sale posted in the last 24 hours. Everything from Omega Seamaster and Rolex Submariner to TAG Heuer Aquaracer to Seiko Prospex and Citizen Promaster – the best diver's watches for sale today.