🇨🇦 A ROLEX 126600 RED SEA-DWELLER S/S 43mm Mark I 50th Anniversary 2018 Complete Set!. This watch is available now for CA$22,551.75. The seller is located in Miami, Florida, United States. The condition of this Divers Watch has been listed as "Pre-owned". This watch is being sold by a seller with the user name "miamiwatchbrokers".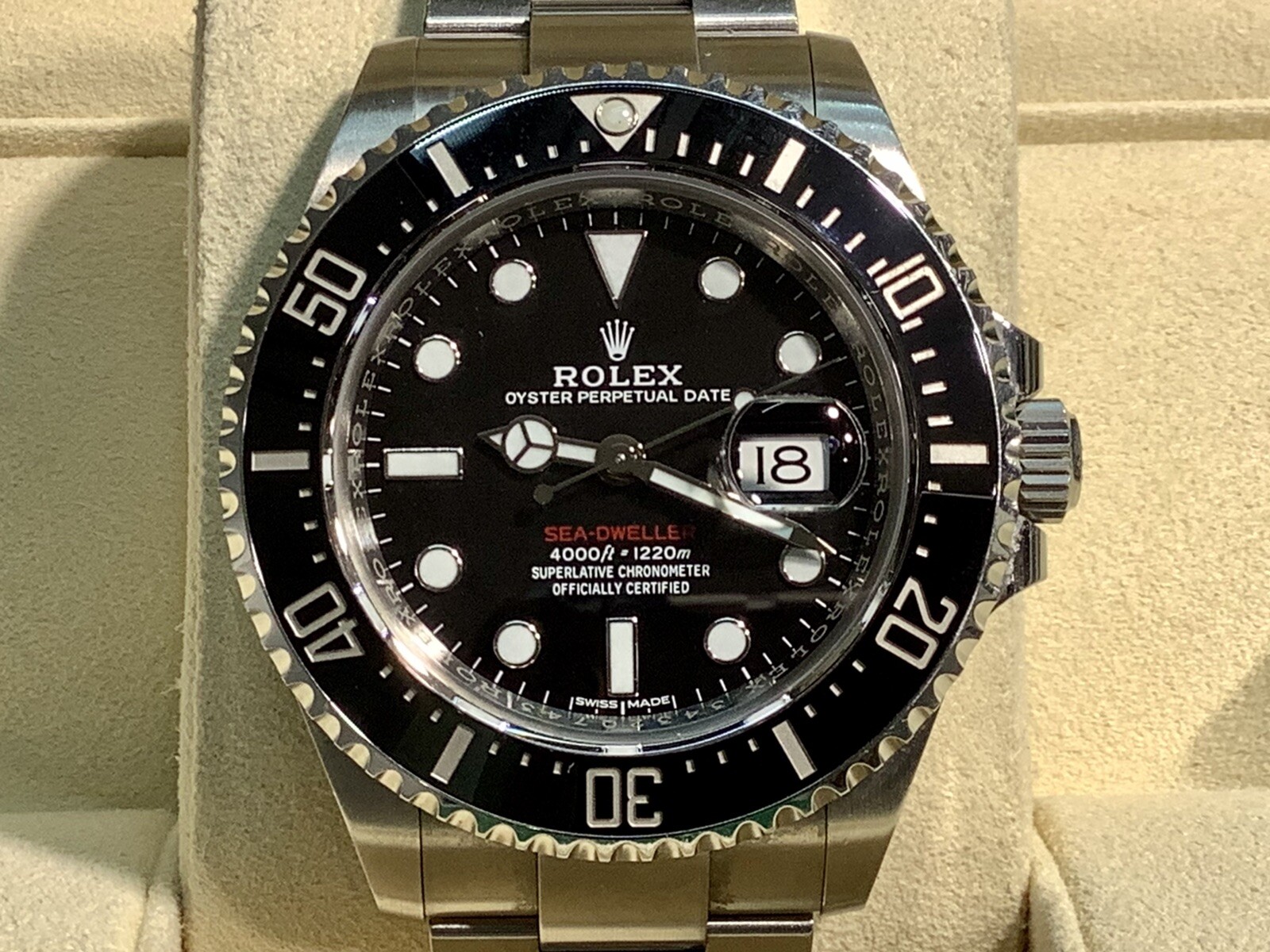 Similar watches for sale
ChronoDivers.com – Dive Watch Sales from around the world
We are here to help you find your next diver watch from a trusted global seller. You can start by jumping straight in and browsing all the Divers Watches for sale right now. If you are looking for a specific watch – use the menus and start filtering by BRAND and MODEL. At that point you can start filtering by COUNTRY
First and foremost we are massive watch fans, but ChronoDiver's is all about the BEST Dive Watches on the planet. Everyday our relentless DiveBOTS search eBay and other sales platforms looking for the latest watches for sale. We categorise these watches by BRAND and MODEL. Whether you're searching for an Omega Planet Ocean or Rolex Sea-Dweller Deepsea we've got it. Or maybe it's something a little more affordable – how about a Seiko SKX007 or Citizen Eco-Drive Diver 200m. At ChronoDivers we've tried to cover all styles and all budgets.
Best Budget Dive Watches
For the cheapest Dive Watches take a look at our Best Value for Money Diver Watches of 2022. Here you'll find watches by Orient, Invicta, Citizen and Casio. These products are for those looking for a usable dive watch betwen £75 and £199
Best Mid Range Dive Watches
For customers looking for the best value for money in the £200 to £500 range we'd recommend anything from the huge range of Seiko Divers watches and Citizen Promaster Dive watches.
Seiko Dive Watches
The Seiko Dive Watch range is extensive but the most popular watches have been given some great nicknames – Seiko Tuna, Seiko Turtle, Seiko Pepsi, Seiko Monster and Seiko Samurai to name a few. For the serious divers out their there's the Seiko PADI endorsed range – covering most styles and models.
Citizen Diver's Watches
The Citizen Eco-Drive dive watches should never need opening – offering years of maintenance free timekeeping. They use the natural movement of the wrist to charge the internal battery. It's a combination of quartz accuracy and mechanical charging.
For the old school diving purist it has to be the mechanical, self winding Citizen Automatic diver. In this range you'll find models like the Citizen NY0085, the NY0040 and NY0100. You can still find some of the classic Citizen 8203 automatic divers watches. Whichever one you choose – you may rest assured your Citizen Promaster Diver's watch has passed the highest standards of Japanese quality.
Luxury Brand Diver's Watch
There are some brands that everyone knows about – marques like Rolex and Omega. Both these brands have some of the finest diver's watches tested to the highest standards. Our favourites include the Rolex Submariner Hulk, the Rolex Sea-Dweller James Cameron Deepsea models, and the Omega Seamaster 300 (Trilogy models). We'd love to own each and everyone of these fine timepieces. HOWEVER, don't limit your choice to these popular luxury brands.
Other Luxury brands to consider
Tudor & Breitling Dive Watches
For Swiss quality engineering and real-world dive watches we'd recommend anything from the Tudor Diver's Watch range. Tudor have some stunning classics, and don't forget it was the founder of Rolex who formed Tudor to provide a more affordable alternative. Classics from them include the ever in demand Tudor Black Bay including the Harrod's, Chronograph and GMT Pepsi versions. We also have the Breitling SuperOcean – a stunning diver's watch with a history back to 1957. This lovely timepiece comes in several styles and models, from the stunningly classic Breitling SuperOcean Heritage to the agressive orange dialled Breitling SuperOcean A17366
Something a little more UNIQUE maybe
Those who like to be a bit different and don't mind being asked "what brand is that watch" all the time – we have the following MUST HAVE luxury dive watches
Sinn, DOXA and Panerai
Panerai have just one official dive watch – that's their Panerai Submersible. Undeniably of Panerai Luminor design and style. A beautiful diver's watch that never fails to raise eyebrows. Two of our favourite and rarely seen brands that tick all the boxes for quality, style, usability and uniqueness are Sinn Dive Watches and DOXA Diver's. If you've not witnessed these innovative timepieces, please take a look.