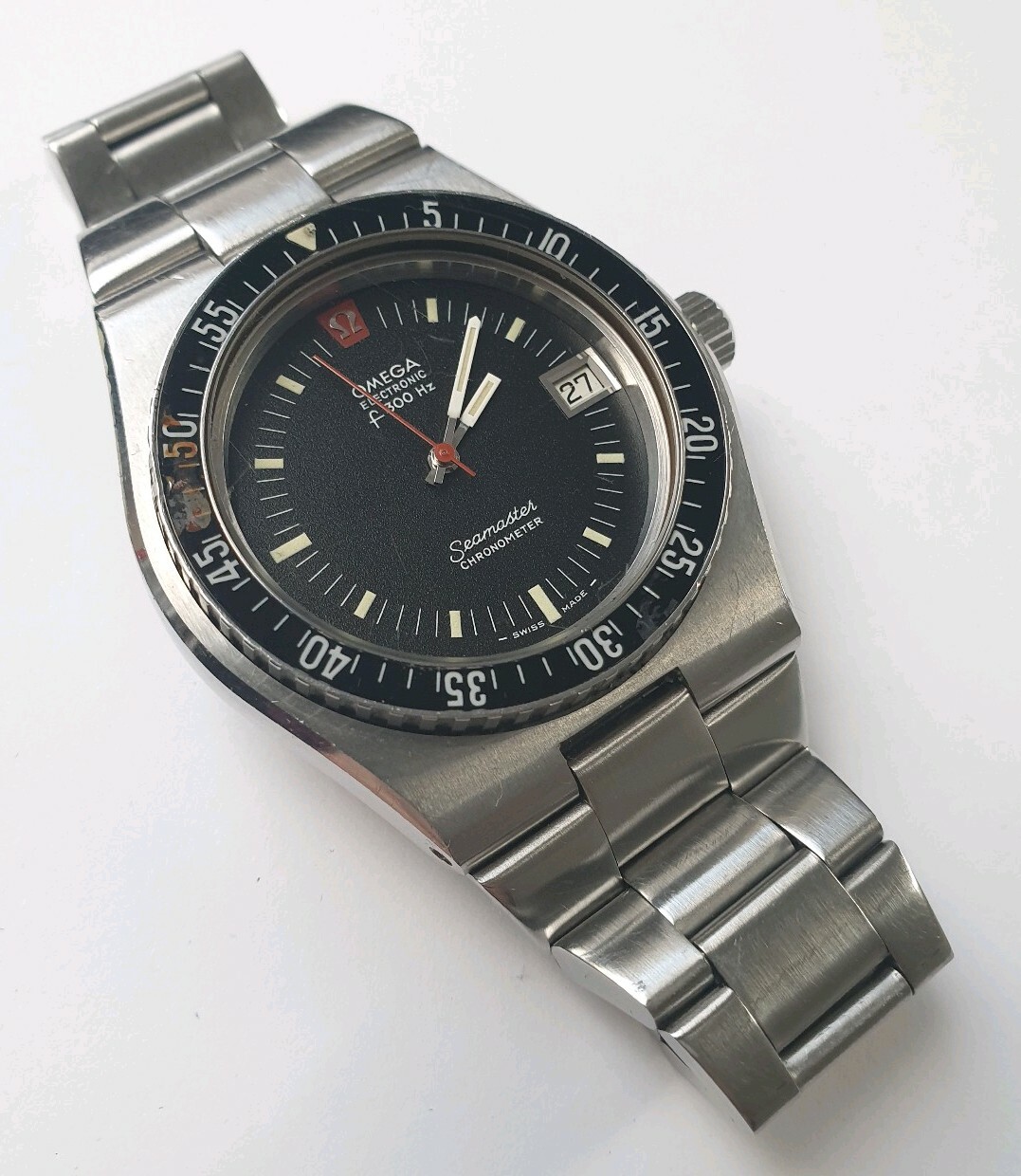 RARE VINTAGE OMEGA F300Hz SEAMASTER CHRONOMETER DIVERS WATCH WITH BOOKLET

Price : £ 650.00

Sale by : buy it now

Ships to : United Kingdom and many other countries

Condition : Used
Bids :

Ends on : 2020-02-29 15:31:38

Time Remaining : 1 week

View this Omega Seamaster Diver 300 on eBay UK
---
Chronodivers.com is an
affiliated partner
of Amazon.com
---
Omega Seamaster Diver 300m
The Omega Seamaster Professional Diver 300m – it's full & proper title – was introduced to the world in 1993. From the outset it was clear the Diver 300m was going to be something special. In that same year professional diver – Roland Specker – achieved a world record freshwater free dive. On his way down to the world record of 80m he wore the new Omega Seamster Diver 300m. The Diver 300m had arrived and established itself as a serious dive watch.
Further reading :
All images courtesy of Omega Watches (2)
Expect to pay £?
The current range of Omega Seamaster Diver 300 watches vary from around £4,000 to £33,000 (for the Diver 300 Commanders watch in yellow gold with NATO strap) – that's the NEW in store price. The most popular models (the Diver 300M Omega Co‑Axial Master Chronometer 42 mm) sell for approximately £4,000.
The Chronograph models start around £4,300 and go upwards of £20,000. The large price difference is mostly down to the case material (steel, titanium, yellow gold or rose / Sedna™ gold) and the .
In the pre-owned market they hold pretty much their original value – but you will see some good ones for around £900-£1,400 for QUARTZ models (try and get one with box, papers etc). For the Automatic Co-Axial Master expect to pay from £3,000 upwards. If you're a little confused at pricing a good place to start is Chrono24.co.uk. Filter the specific model, year and location for an sensible benchmark price.
James Bond 007
James Bond 007 has had a connection with Omega since Goldeneye in 1995. Expect to pay more for any Omega watch with the 007 James Bond branding.
More Omega Diver 300 watches for sale
For visitors in the UK please visit our latest listings of Omega Diver 300m watches for sale [UK sellers]
For American visitors please visit our latest listings of Omega Diver 300m watches for sale [USA sellers]
Beware Fakes
The market is FLOODED with fake Omega watches. Do not buy a counterfeit Omega Diver 300 by following some guidelines about avoiding fake watches here
Browse the Latest Listings
Don't forget to take a look at all the latest Dive Watches for sale posted in the last 24 hours. Everything from Omega Seamaster and Rolex Submariner to TAG Heuer Aquaracer to Seiko Prospex and Citizen Promaster – the best diver's watches for sale today.