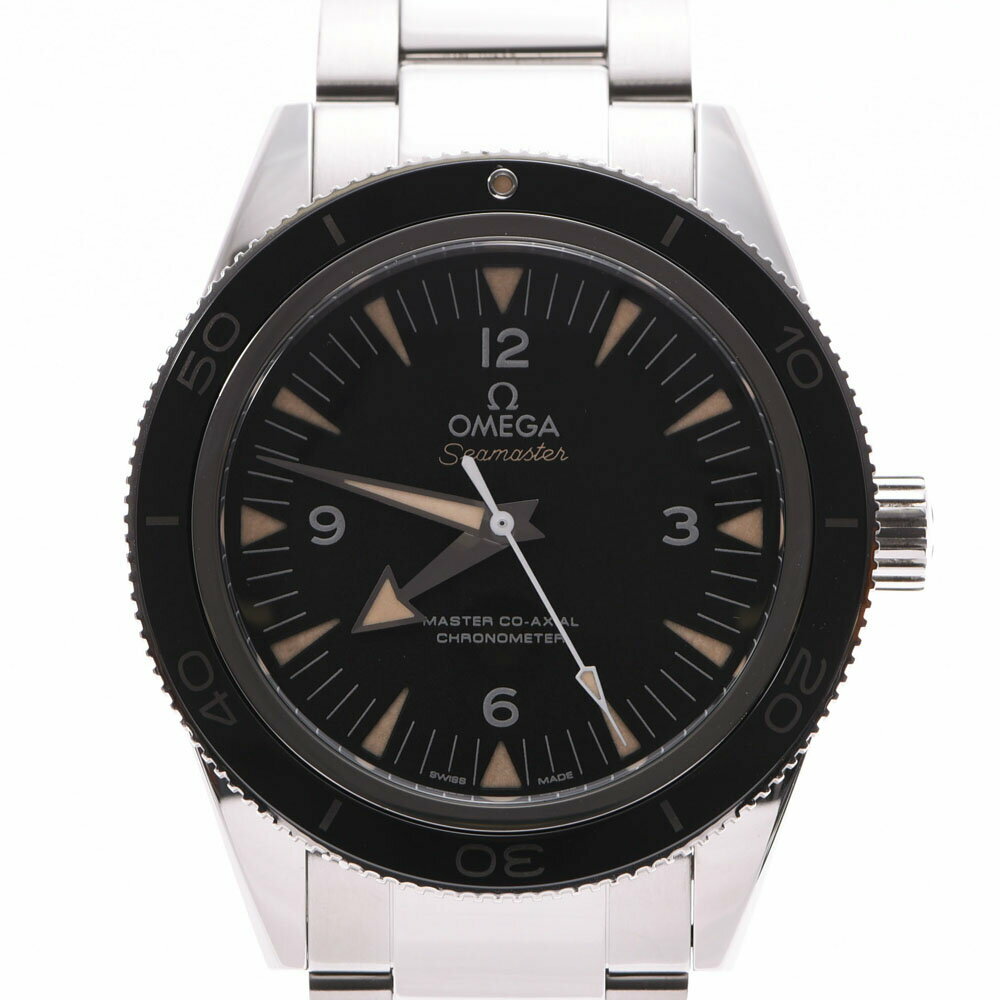 OMEGA Seamaster 300 Master Co-Axial 233.30.41.21.01.001 Automatic Watch Serviced

Price : £ 3,658.41

Sale by : buy it now

Ships to : Worldwide

Condition : Used
Bids :

Ends on : 2020-02-29 14:53:41

Time Remaining : 1 week

View this Omega Seamaster 300 on eBay UK
---
Chronodivers.com is an
affiliated partner
of Amazon.com
---
Omega Seamaster 300
Don't confuse the Omega Seamaster 300 with the Seamaster Professional Diver 300m or the Seamaster Planet Ocean. A quick glance at any of these models should be time enough to determine which model it is. If BOTH hands have arrowhead pointers – it's an Omega Planet Ocean. If ONLY the hour hand has the arrowhead it's the Seamaster 300. The Seamaster Diver 300m is totally different with distinctive skeletal (hollow) hands.
Omega Seamaster 300 hands
If it's an Omega Seamaster 300 you are interested in – please check the hands look like these above. One hand with the arrowhead – the other no arrowhead. We see 50 – 75% of eBay listings wrongly referring to the Omega Seamaster Diver 300m as a Seamaster 300. Both great watches – but please ensure you are getting what you want.
Further reading
Seamaster 300 – rebirth of a classic
It was 1957 when Omega introduced the Seamaster 300. Designed specifically for divers and underwater professionals. Fast forward another 50 years and Omega have kindly reintroduced the Seamaster 300. Maintaining all the aesthetic qualities of the original Omega have completely upgraded and enhanced this classic watch. Stuffed with new and innovative technical features ensuring the Seamaster 300 is here to equip the next generation of adventurers – on land and in the sea…. more information
More Omega Seamaster 300 watches for sale
For visitors in the UK browse the latest Omega Seamaster 300 watches for sale [UK sellers]
For American visitors please browse the latest Omega Seamaster 300 watches for sale [USA sellers]
Beware Fakes
The market is FLOODED with fake Omega watches. Do not buy a counterfeit Omega watch by following some guidelines about avoiding fake watches here
Browse the Latest Listings
Don't forget to take a look at all the latest Dive Watches for sale posted in the last 24 hours. Everything from Omega Seamaster, Blancpain Fifty Fathoms and Rolex Submariner to TAG Heuer Aquaracer, Seiko Prospex and Citizen Promaster – the best diver's watches for sale today.